Not all that long ago I wrote on my Steemit.com this blog post:
Not all that long ago a fellow Steemian told me about this site called Mene.
If I understood right, it is owned by the grand daughter of the famous artist Picasso!
Anyway, he was telling me about how we can get free gold. I didn't think much of it, but heck, I did throw the link around and got a few referrals and sure, it added up!
Not that much to be honest, or at least I thought it didn't.
Just the other day, about a month or maybe a just a little more after my original registration, I got a "$50 Gift Voucher" from them.
Figured, hell lets have a look!
& I was like a few referrals away from possibly buying (getting) a nice little 24 ct four leaf clover charm for free.
Here is the picture of it:
Source
Yep, this is the item I chose.
NOW COMES THE PART THAT WILL KNOCK YOU RIGHT OFF YOUR FEET!
CHECK THIS OUT!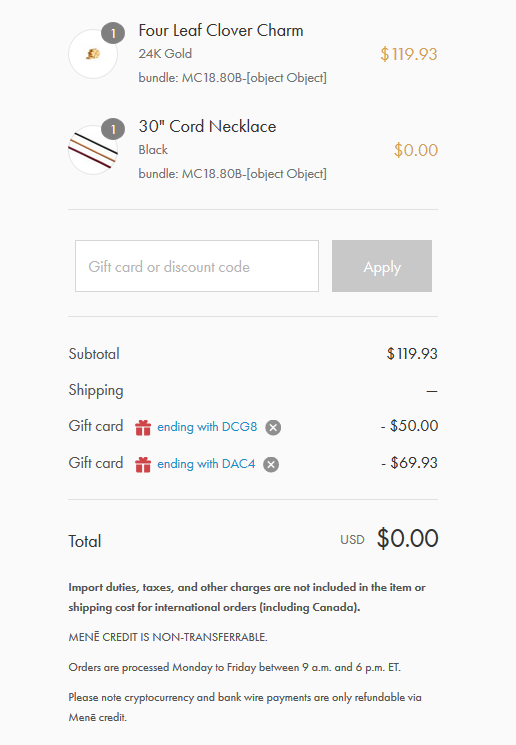 YEP YOU SEE IT!
But that's not all!
CHECK THIS OUT!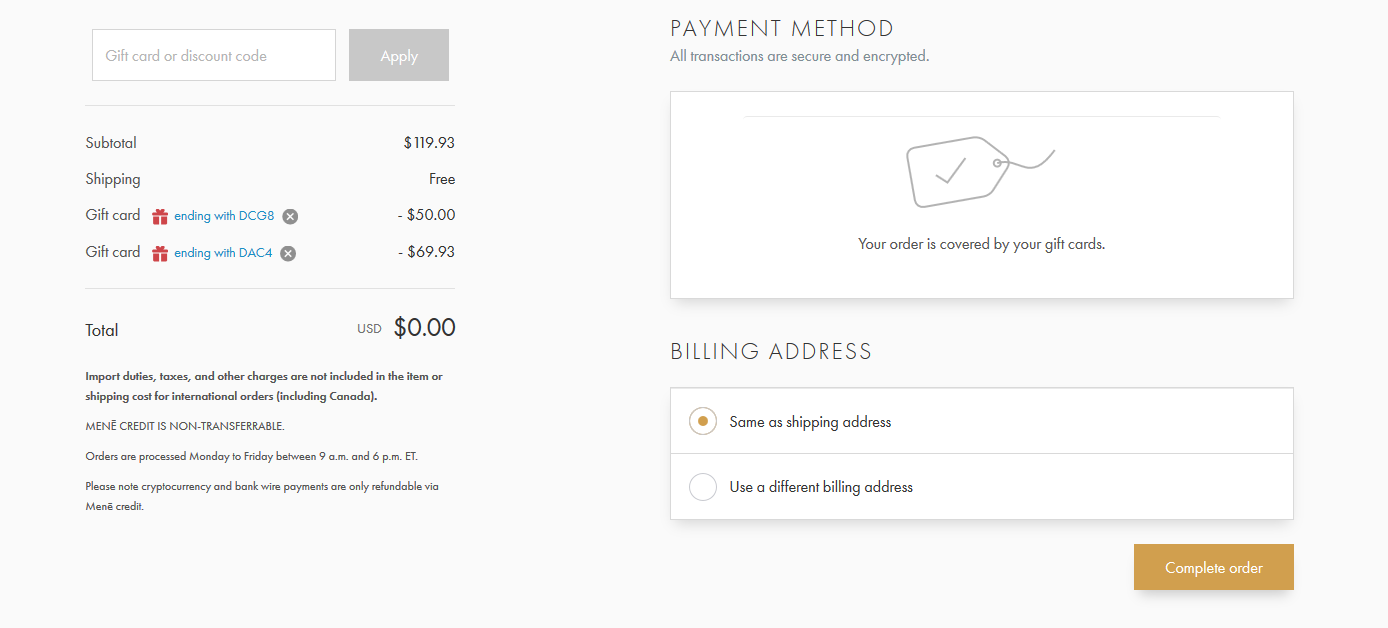 OK OK…. SO YOU STILL DON'T BELIEVE ME!
WELL CHECK THIS OUT!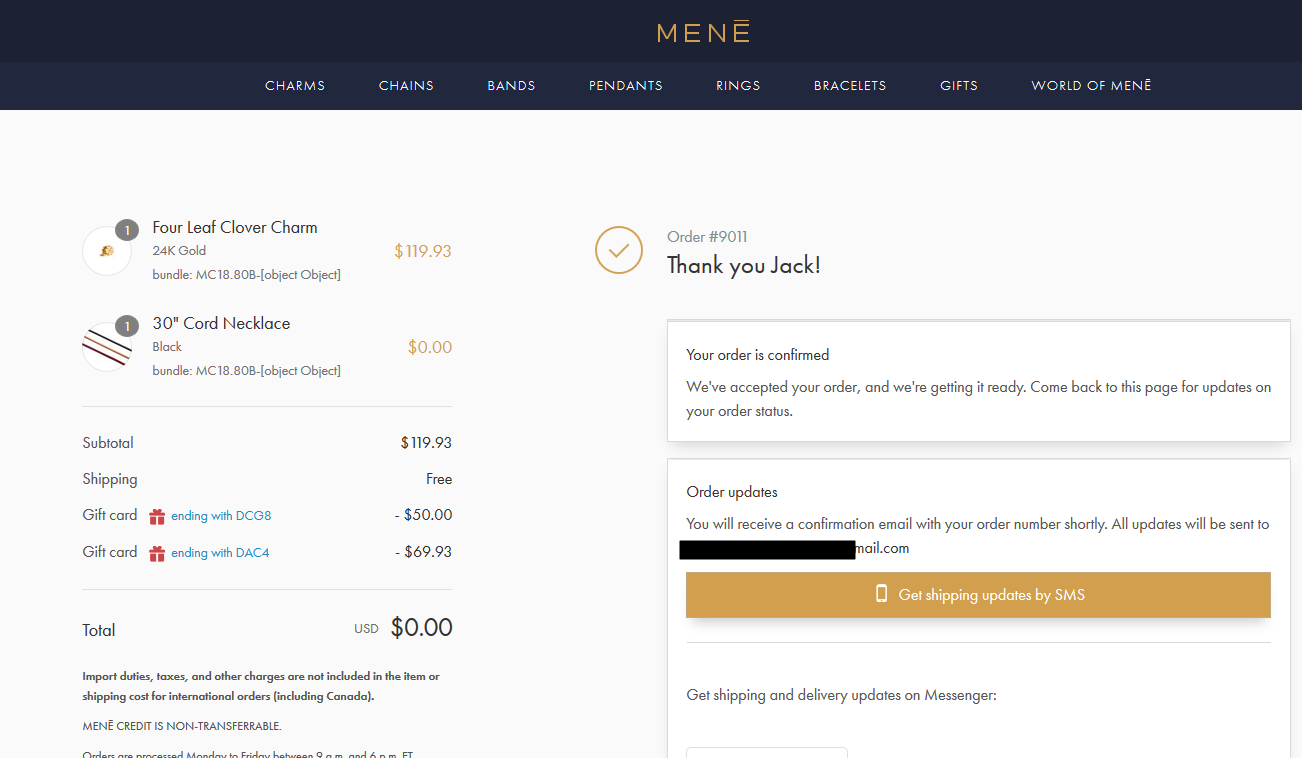 WOW!

Now, this charm is going to my wife, I used up ALL her luck, so this is my way of letting her know that she is my lucky charm.

However, now that I have seen this work, Mene.com has me as a loyal customer.

Will I stop pluggin their business?

HELL NO!

I WILL TELL THE WORLD ABOUT THEM!

My goal is to buy a charm for all four of my children.

& Yes, I will like to buy them for as cheap as possible, even if they are not free, but the more people who register on the page here:

I will be rewarded $5 in store credit per registration.

So each person can make a difference and help me get closer to achieving this goal.

It feels great to experience something like this and being able to give something as sweet as this to the woman who has loved me for over 21 years, just made my day!

I sincerely ask that you use the above link to register, it is a free registration and it literally costs you NOTHING, there is no spam mail popping up in your inboxes or anything of the sort.

I HOPE YOU CAN DO THIS!

& I sincerely hope that you can get some free gold too if you decide to promote your own links.

If not, then please consider sharing my referral link to all the social platforms you are on.

Even on "Fbook", Twitter, where ever you can, I WILL REALLY APPRECIATE IT and my kids will love it even more when they get gifts from their dad (me) who has been overseas for two years now. But that is another story, we'll leave that for another post. But yeah, they love it when they get anything from me in the mail and I just can't wait to get home.

I appreciate your time & support.
WELL NOW I AM ONLY 12 MORE REGISTRATIONS AWAY FROM GETTING ONE OF THESE FOR MY YOUNGEST SON:
So if you have any people in your household who haven't yet registered and you don't plan on doing anything with Mene,
PLEASE REGISTER EVERYONE IN YOUR HOUSEHOLD VIA THIS LINK:
I really appreciate your time and sincerely hope that I can get this little horseshoe charm for free for my youngest son!
Thanks in advance to everyone.
Yours truly
@jackmiller